History and Raison D'être
Inspired by our desire and ability to contribute and encouraged by market needs and subsequent positive consumer response, We at FOOD AND BIOTECH ENGINEERS INDIA PVT. LIMITED started out as Dairy Equipment Manufacturers in 1991 based out of NCR.
Over the years, impeccably led and guided by our top management, supported by competent teams of devoted engineers and technical professionals and backed by state –of –the –art infrastructure and facilities for development and manufacturing, we have diversified and established ourselves as Designers, Consultants, Manufacturers and Suppliers of:
We have earned ourselves reputation for energy efficient designs, cost effective technical solutions, time-bound deliveries, competent project execution and lifelong technical service support.
As our relationship with our clients is based on mutual trust and synergy, we are preferred choice of clients for Concept to Commissioning and Turnkey Solutions
As a result of cost effective and energy efficient designs of our equipments and we have been exporting plants to USA, Russia, Australia, Poland, South Africa, Uganda, Nepal adhering to exacting standards of international business.
RALLI OY of Finland, renowned consultants in Evaporation Technology are our technical collaborators.
With a substantial chunk of our business in exports, we have been earning valuable foreign exchange for the country.
FBE is proud to have generated employment opportunities for about 1000 people.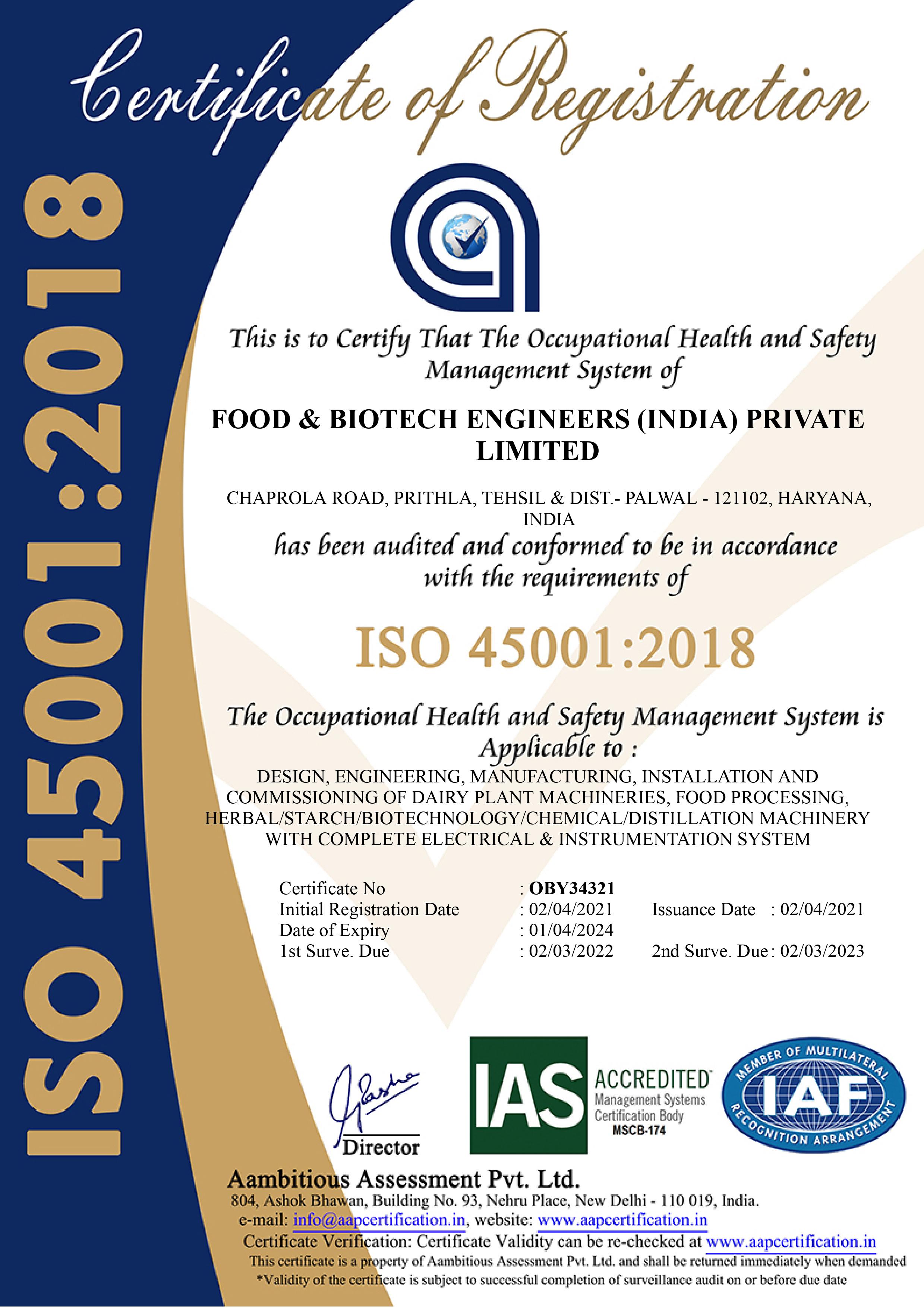 ISO 45001:2018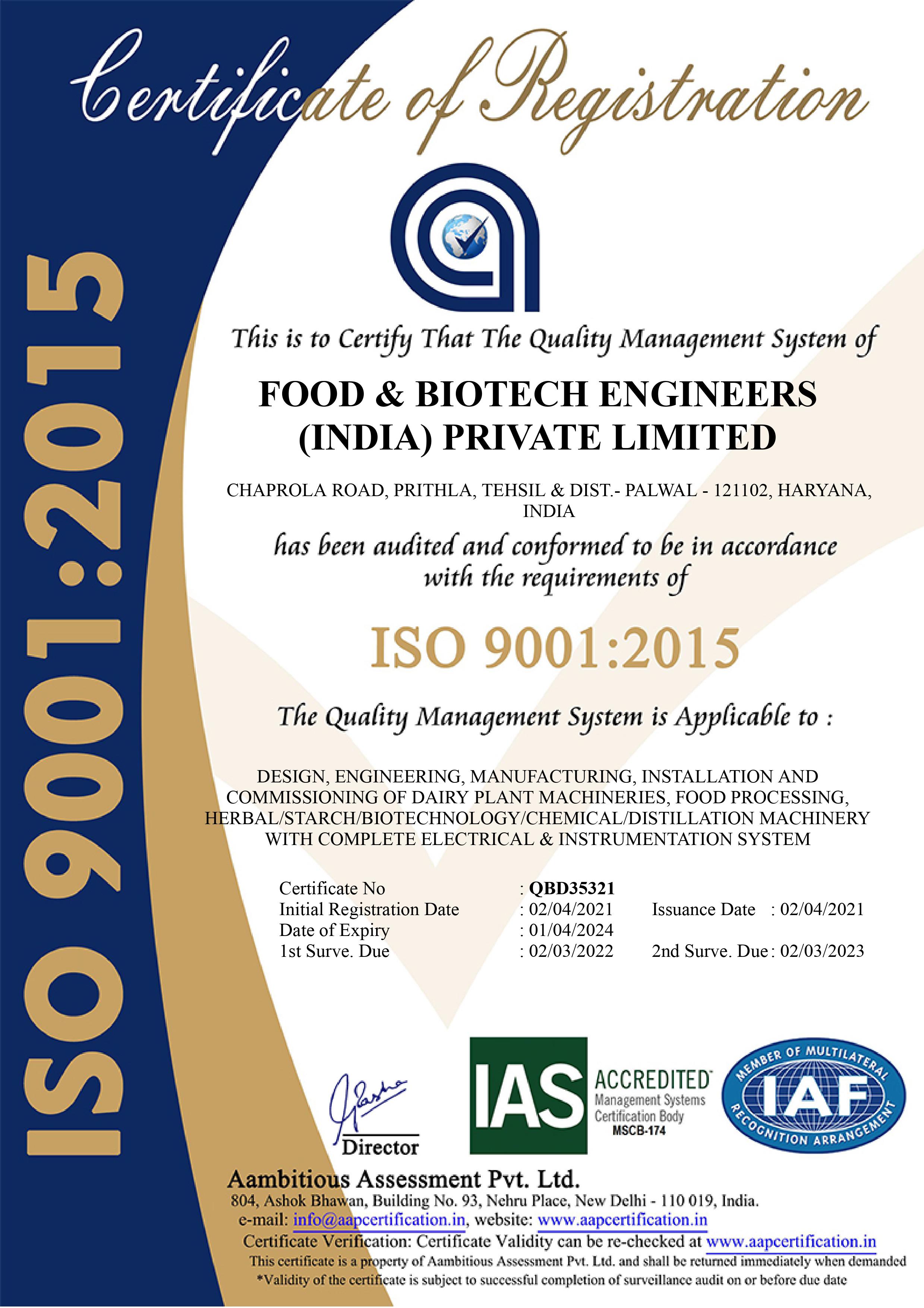 ISO 9001:2015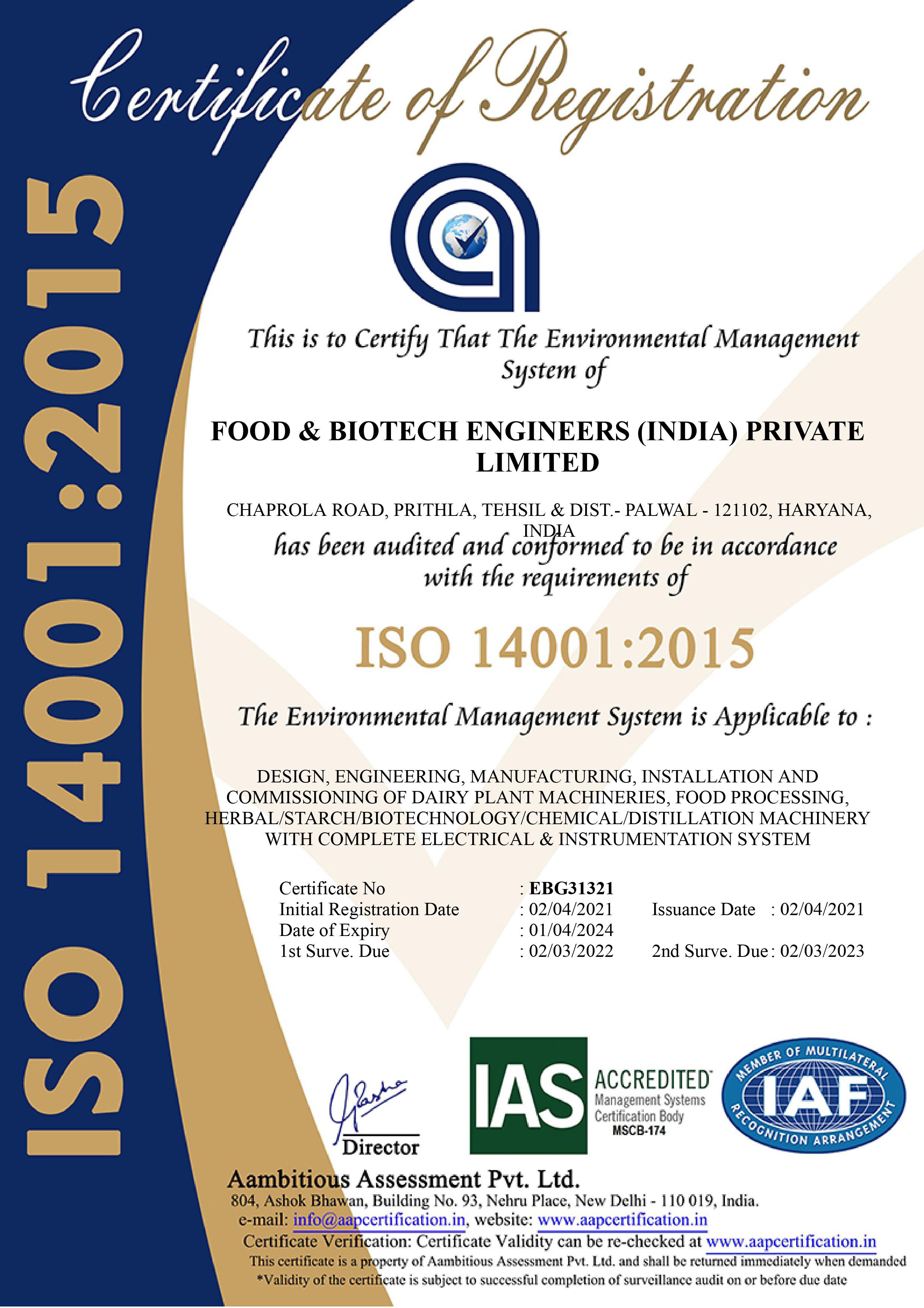 ISO 14001:2015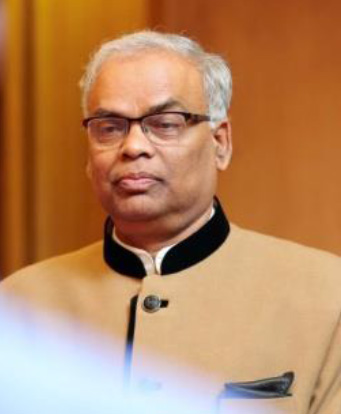 Mr. R.P. Singh is the founder, promoter, Managing Director and CEO of Food and Biotech Engineers India Pvt. Limited.
Mr. Singh earned a Bachelor's degree in Technology and Masters degree in Engineering and has gained profound experience in processing technologies and plant maintenance before venturing out on his entrepreneurial journey.
With his uncanny grasp of problem solving and technical design, lucid vision of customer-centered enterprise, remarkable leadership ability and tenacity of purpose, flawless acumen for business and benevolent attitude, he has turned FBE into an organization with a name to reckon with.
Articulating his deep practical experience for benefit of industry and future students , he has authored a  Handbook of Processing, Evaporation and Drying Technology.
Mr. R.P. Singh has been awarded with Udyog Patra from Institute of Trade and Industrial Development, Delhi for SELF – MADE INDUSTRIES, Rajiv Gandhi Shiromani Award by H.E. Shri Syed Sibtey Razi Governor of Jharkhand and business sphere award.
As FBE's equipments quality is high and price is low, which enables many small businessman to put Milk processing and Spray Drying unit with small budget, which was not possible earlier. It has also enabled small investor to effectively utilize their valuable resources and to become a big entrepreneur. To keep pace with fast changing technology in Industry, FBE is in continuous process to create an aura of latest technology by developing latest models of energy efficient and cost effective plants.
By exporting more than 25% of manufactured equipment, this company has earning valuable foreign exchange for country. Today company has generated more than 1000 employment opportunity inside the company and many more outside the company for the country.